Threatened Blackburn leisure pool reopens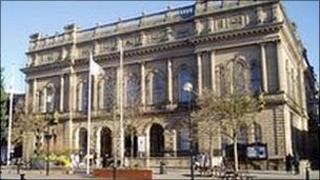 A leisure centre swimming pool which was set to close as part of council spending cuts, is reopening.
The Labour-run Blackburn with Darwen Council last month voted to reopen Shadsworth Leisure Centre - reversing the decision of the former coalition.
Residents who had protested against the planned closure, are now involved in the board and running the facilities.
On Monday Labour councillor Damien Talbot, member for leisure, said: "It should never have closed."
Free swimming sessions were resuming at the centre on Monday, the council said.
Residents pleased
A new management board, including residents, council staff and councillors, has been set up to plan for the future of the centre.
Resident and board member Celia Allen said: "We see it as a real challenge.
"We get to give our point of view on what we think should happen here, which we think is really good. Hopefully it will work and roll on to other leisure centres.
"It's brilliant for us as residents because we get to use all the facilities again and your children don't miss out on swimming - because we couldn't afford really to take them to other places."
The council has warned that people need to use the leisure centre to secure its long-term future.