Bomb which killed Lancashire soldier missed by team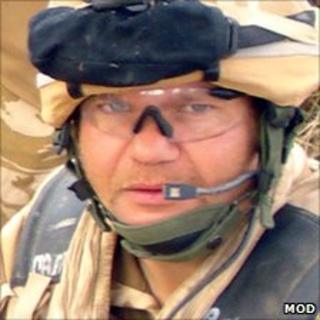 An explosives expert was killed by a bomb in Afghanistan after it was missed by his search team, an inquest heard.
Warrant Officer Class 2 David Markland, of 36 Engineer Regiment, died instantly in the blast on 8 February, Preston Coroner's Court heard.
The 36-year-old, of Euxton, Lancashire, was leading a Gurkha regiment team when the device went off as he marked the route with spray paint.
Deputy coroner Simon Jones ruled that WO2 Markland was unlawfully killed.
His team missed the device buried in a ditch as they searched the route, possibly because it was encased in plastic, the court heard.
Sapper Bickey Gurung said: "I literally walked over that ditch and there was nothing, no indication."
The Gurkhas had been used to search the route because specialist equipment had been damaged by a separate blast, the court heard.
Task Force Thor equipment is normally used for an initial sweep of an area before bomb disposal experts are brought in.
Despite the lack of equipment, the court heard it was usual procedure to carry on.
Sgt Gareth Reid said WO2 Markland kicked a stone immediately before the explosion.
"I'm not sure if he took a step but I heard and I felt an explosion. I felt a blast and I felt dirt and stones from the ground hit me on the side of my face," he said.
Nicholas Hunt, consultant pathologist, said the officer died of "devastating head injuries associated with the amputation of his limbs".
"Given the injuries obtained, his death would have been instantaneous with no knowledge of what happened. There is nothing that those around him could have done to save his life."
The blast destroyed much of the evidence and there was no way of establishing what triggered the bomb or why it was undetected, the coroner said.
"David Markland was killed while carrying out his duties which included making areas safe for his colleagues and the local population, a task which involved putting his own life at risk for others," said Mr Jones.
'Best team'
Speaking after the verdict, WO2 Markland's mother, Annette, said the task should never have continued.
She said: "When the Thor broke they should have stopped and regrouped. If an armoured vehicle hasn't got a chance, what chance have they got?"
Mrs Markland praised members of the search team, who her son described as the "best search team ever".
WO2 Markland leaves behind wife Corallee and their two sons, Keelen, 10, and Logan, seven.
He was in the Army for 20 years and was on his eighth operational tour, having already served five times in Bosnia, once in Iraq and a previous tour of duty in Afghanistan.
WO2 Markland had been selected for the rare accolade of being made a Field Squadron Sergeant Major shortly before his death.