Four arrested in Burnley flat murder inquiry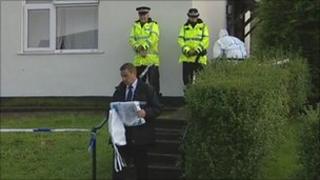 Three men and a woman have been arrested on suspicion of murdering two men found dead at a flat in Burnley.
The victims, whom police believe were friends, were found by officers called to the ground-floor flat in Waddington Avenue in Brunshaw on Tuesday.
Lancashire Police said three men, aged 30, 25 and 18, were arrested along with a 23-year-old woman, all from Burnley.
The dead men have been named locally as James Atkinson and Neil Gilmore, both believed to be in their 50s.
'Significant violence'
However, Lancashire police said formal identification was yet to take place.
Det Supt Supt Neil Hunter, who is leading the inquiry, said he believed the men died recently, from head injuries.
He added: "Significant violence has been inflicted on both males.
"There is a significant disturbance inside the scene which has taken the forensic scientists some time to pick through.
"We can't afford to leave anything unturned."
'Motive unclear'
He said a motive for the attack was unclear but all options remained open.
"There was no doubt that we suspected foul play right from the beginning and that's why the murder inquiry was launched.
"We can't rule out it is a burglary or a theft gone wrong, we can't rule out it's a revenge attack - everything is up in the air."
He said one of the bodies was due to be moved from the house for a post-mortem examination.
Police are making house-to-house inquiries in and around Waddington Avenue. They are also looking at CCTV footage.
Det Supt Hunter added: "Fortunately double murders are rare in Lancashire and I think that just steels our resolve to get to the bottom of this."