Parents reassured as drugs found at Burnley primary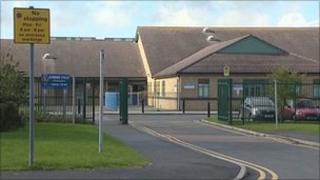 Cannabis found in possession of four nine-year-olds at a Burnley primary school was an isolated incident, the head teacher has said.
The children were found with a small amount of the class B drug at Cherry Fold Community Primary on Friday.
Lancashire Police were contacted and the four have been excluded while investigations are carried out.
Deanne Marsh, acting head at the school, has told parents safety of pupils was "paramount".
In a letter to parents and guardians, she said one of the pupils had admitted bringing "very small, loose pieces of what was suspected to be cannabis" on to the premises.
"The children's parents and police were contacted. I can confirm that four pupils are now currently excluded while investigations are carried out into the incident," she said in the letter.
"It is not appropriate for me to comment further other than to reiterate the fact that there is insufficient evidence to suggest that pupils had been involved in any alleged 'drug dealing' activity."
"As a school, we have responded to this isolated incident following advice and guidelines from Lancashire County Council and we continue working together to deal with this.
"Therefore, may I take this opportunity to reassure you that children's safety is paramount to us at Cherry Fold Community Primary School and that this is an isolated incident."
Lancashire Police spoke to the children and their parents and issued them with youth referral orders.