Haverigg Prison medics 'failed' inmate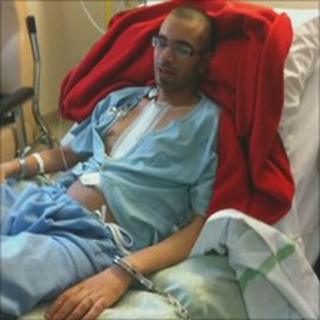 The wife of a prisoner who needed major heart surgery claims it could have been avoided, if prison medics had taken him seriously when he said he felt ill.
Imran Khansia, from Preston, said he was only given paracetemols by staff at Haverigg Prison in Cumbria.
Eventually he became so ill he was taken to Blackpool Victoria Hospital where doctors found he had a serious heart valve infection.
NHS Cumbria said it is reviewing the care he received in Haverigg.
Mrs Amina Khansia said her husband complained of having a high fever, dizziness, headaches, nosebleeds, vomiting and diarrhoea.
She added, "As the weeks went on he got more and more symptoms."
When Mr Khansia was taken to hospital doctors also discovered a 4cm abscess which needed to be removed, said his wife.
Prison review
"He's never going to be the same now, he went in with a six-year sentence, he's coming out with a life sentence."
NHS Cumbria said it took the the health needs of prisoners in Cumbria "very seriously".
A spokesman added: "NHS Cumbria is currently reviewing the medical care provided in this case and whether any earlier diagnosis could have been provided.
"That review is ongoing and until it has concluded, it would inappropriate to speculate on the appropriateness of the care delivered."
A Prison Service spokesperson said: "We do not comment on individual prisoners."