Fifth arrest in Burnley flat murder hunt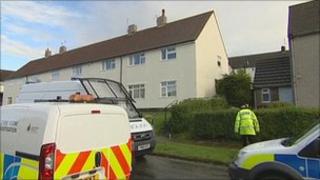 Detectives investigating the murders of two men at a flat in Burnley have made a fifth arrest.
The bodies of James Atkinson, 55, and another man, named locally as Neil Gilmore, were found at the property in Waddington Avenue on Tuesday.
Police said there was no sign of forced entry so the killers may have known the men, who were believed to be friends.
Four people were already in custody before a 22-year-old man was arrested on Wednesday afternoon.
A cordon remains in place at the scene whilst crime scene investigators and forensic scientists carry out their work.
One of the bodies has been removed for a post-mortem examination but the other was still inside on Wednesday night.
Mr Atkinson, who lived at the property, was formally identified on Wednesday and officers are supporting his family.
Det Supt Supt Neil Hunter, who earlier said that "significant violence" had been inflicted on the men, appealed for those who knew him to come forward.
"I am keen to hear from people who knew Mr Atkinson and may have been in contact with him over the past few days," said the detective.
"The motive for this offence is still unclear.
"There was no forced entry to the property and therefore we cannot rule out that the offenders were known to the victims. They may have been in the property legitimately before the attack occurred.
"We have a large team of dedicated officers and staff working on investigating and detecting this crime and minute by minute the picture is becoming clearer."
Four men, aged 30, 25, 22 and 18, and a 23-year-old woman, all from Burnley, are being questioned on suspicion of murder.