Ex-boyfriend admits nurse murder at Blackpool hospital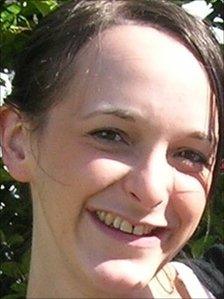 A man has admitted stabbing his nurse ex-girlfriend to death in a hospital car park in Lancashire, to evade charges of raping her.
Jane Clough, 26, was found with multiple stab wounds outside Blackpool Victoria Hospital on 25 July.
Former ambulance worker and father of her baby, Jonathan Vass, 30, admitted murder at Preston Crown Court.
Ms Clough, of Barrowford, was walking to her car after a shift at the A&E department when she was attacked.
Dennis Watson QC, prosecuting, said: "This was a murder that was intended to obstruct the course of justice, being on bail for the offences of rape two months prior to that trial date."
He told the court this assertion was not contested by the defence.
Vass, of Conway Drive in Preston, had been due to face trial at Burnley Crown Court accused of raping Ms Clough.
Mr Watson said the crown had decided it was in the public interest that the rape charges should lie on file.
Judge Anthony Russell QC said he agreed with the decision.
"In comparison with the murder, anything else pales into insignificance," he said.
Outside court, Ms Clough's parents John and Penny said the judge's comment was "disgraceful".
Mr Clough said: "We object most strongly that the original charges of rape will not be heard.
"We feel that the justice system has let us down twice: First allowing him bail while charged with these abhorrent crimes, and now today.
"We expected him to be judged as a murderer and a rapist."
His wife added: "I wonder if this man (the judge) is a father. Any woman who has been raped lives with that full torment every day."
She said her daughter had lived in fear "for many months" but was finally getting her life back together in the few months before her death.
She had returned to work after her maternity leave, "but he knew exactly where to get her," Mrs Clough said.
Mr Clough said: "Jane was killed to keep her out of the witness box and he won that battle.
"Jonathan Vass was a very controlling, manipulative person. He tried to change her but he was not successful."
They paid tribute to their "beautiful daughter", a "loving mother" to Imogen.
The judge's comment has also been criticised by rape support charities.
Dr Kate Cook, a lecturer in law at Manchester Metropolitan University, set up Trafford Rape Crisis in July.
She said she understood the legal reasons why the rape prosecution was not being pursued.
"He (Vass) has done all the possible harm he could possibly do to her," she said.
However, the judge's comments were "so offensive and hurtful," she said.
"To suggest her rape was insignificant really shows how far the legal profession has to go in terms of paying attention to what matters to people," she added.
Responding to criticism that Vass was on bail while waiting for the rape trial, a spokesman for the Judicial Communications Office said judges had to make bail decisions "within the statutory framework provided by Parliament in the Bail Act 1976 (as amended), taking account of relevant case-law".
"The Bail Act (as amended) provides for a general presumption that bail will be granted in all cases, except in specific circumstances.
"It was for the judge to decide whether any exception applied.
"In view of his decision, it is apparent that the judge formed the view that none applied on the facts presented to him."
He added that the Vass was given bail with conditions which included not contacting his former partner.
Vass, who was suspended and then eventually dismissed from his job as an ambulance technician, will be given a mandatory life sentence on 14 October.
Ms Clough had worked at Blackpool Victoria Hospital's A&E department for four years, where colleagues had described her as "very caring, compassionate and highly competent".
Her colleagues battled desperately to save her but she died of multiple stab wounds.
Related Internet Links
The BBC is not responsible for the content of external sites.