Commons reassurance over Pakistan deaths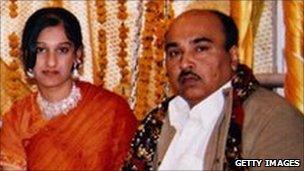 The family of a Lancashire couple and their daughter who were shot dead in Pakistan have been told the government is working to help them get justice.
Mohammad Yousaf, 51, his wife Pervez, 49, and daughter Tanya, 23, were killed at a cemetery near Gujrat on 20 May.
One gunman was killed, one was arrested at the scene and another two went on the run. They are still missing.
The deaths were the subject of a debate in the House of Commons, attended by the family members and supporters.
Mr and Mrs Yousaf and their daughter Tanya, all from Nelson, were surrounded and shot several times while praying at the cemetery.
The killings were allegedly triggered by a divorce between Mr Yousaf's son and a girl in the nearby village.
Two of the suspects, brothers Shiraz and Naveed Arif, were granted pre-arrest bail in Pakistan but failed to attend court and went on the run.
Pendle MP Andrew Stephenson outlined the case in an Adjournment Debate on Tuesday night.
Foreign officer minister Alistair Burt told the Commons: "We will continue to do all we can to ensure that the most important outcome on the case - that is justice for the family, justice for those that have been killed - is done."
The Yousaf family had previously criticised the Pakistani police and government, and the British authorities, for their lack of action in apprehending the men.
Related Internet Links
The BBC is not responsible for the content of external sites.