Beach huts may return to St Annes seaside resort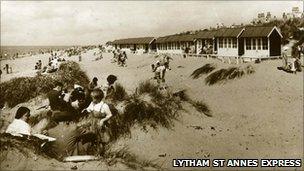 Beach huts could return to a Lancashire seaside resort if plans get the go ahead.
Fylde Council has invited developers to submit proposals to build the huts which could be sold or rented out.
Councillor Richard Fulford-Brown, who has been campaigning for their return, said: "They would put St Annes on the tourist map."
The huts, complete with electricity and running water, could be back by next summer.
Mr Fulford-Brown remembers the huts fondly from his childhood.
"My grandmother used to hire one out all summer when I was young and they were great. I loved them," he said.
"They would be a great advertisement for the resort especially if they were in place for the Open Golf coming to Lytham St Annes in 2012."
Beach huts had their heyday in St Annes in the 1950s with 30 on the seafront.
However, by the 1980s they had fallen into disrepair and were pulled down.
Sue Fazackerley, another Fylde councillor, said the plans were part of a wider campaign to improve the seaside town.
"They will help restore St Annes to classic resort status and as such, be a boost to tourism and the economic regeneration of the area," she said.
Private developers would require planning permission to build the huts but councillors have said they support the idea in principle providing the huts are for day-time use only.
If the plans go ahead the huts will be a step up from the original ones found on the St Annes coastline.
"They will be far more comfortable than the huts I remember from my childhood which were extremely basic and unexciting," said Councillor Fazackerley.
"The new generation of beach huts would really add to our traditional British seaside appeal."
Related Internet Links
The BBC is not responsible for the content of external sites.