'Locked-in' ex-footballer Gary Parkinson starts rehab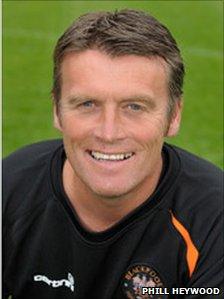 Blackpool FC youth coach Gary Parkinson, who is trapped in his own body after a stroke, has been moved to a rehabilitation unit.
Doctors believe the former player, 42, suffers from the incurable locked-in syndrome.
Teesside-born Parkinson was transferred from the Royal Bolton Hospital to Priory Highbank Centre, in Bury, on Wednesday.
His wife Deborah has described it as "a step forward".
Mrs Parkinson told Blackpool's website: "The staff at the Royal Bolton Hospital have been fantastic and I've felt that Gary has been in really safe hands."
She added: "Gary needs very specialist treatment so the move to Highbank is a step forward."
Mr Parkinson, who had stints at Preston, Burnley and Blackpool, suffered the stroke early in September.
Doctors believe it has left him with locked-in syndrome which leaves the patients unable to move, speak or swallow because of a paralysis of their muscles.
However, they can be fully aware of what is going on around them.
Many patients do not recover from the condition which can cause pneumonia and thrombosis and lead to the patient's death, often within the first four months.
There are a small number of people who have successfully fought the disease, and through rehabilitation and specialist care are able to lead normal lives again.
Related Internet Links
The BBC is not responsible for the content of external sites.