Ex-partner who killed nurse to avoid rape trial jailed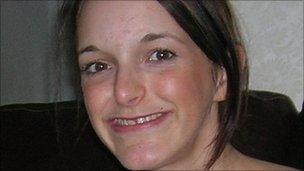 A man who murdered his nurse ex-girlfriend in a hospital car park to evade charges of raping her has been jailed for at least 30 years.
Jane Clough, 26, was found with multiple stab wounds outside Blackpool Victoria Hospital on 25 July.
Jonathan Vass, of Preston, a former ambulance worker and father of her baby, got life after admitting murder.
Preston Crown Court was told Vass, 30, had killed Ms Clough while on bail awaiting his rape trial.
Vass attacked Ms Clough, of Barrowford, Nelson, at about 2020 BST as she was walking from her car to start her shift at the hospital's A&E department.
After stabbing and slashing the mother-of-one with a 3in (7.6cm) blade, he briefly walked away, then went back and slit her throat.
'Manipulative and controlling'
Her colleagues in A&E did not recognise her due to the severity of her injuries and the "catastrophic" loss of blood, the court heard.
They battled to save her but she died shortly afterwards.
Vass, described as "manipulative and controlling", had been due stand trial at Burnley Crown Court on charges of raping her.
The judge in that case had granted him bail, with conditions including keeping away from Ms Clough. However, he followed her life on Facebook.
The rape charges against Vass, of Conway Drive, were ordered to lie on file when he pleaded guilty to Ms Clough's murder on 7 October.
Ms Clough's parents John and Penny were angered by both the decision to free him on bail and then to allow the rape charges lie on file following his guilty plea to murder.
Judge Anthony Russell QC, sentencing, said: "As she lay bleeding you walked away but then returned and slowly, deliberately and cold-bloodedly slit her throat.
"It is difficult to imagine a more horrific crime than this murder. Furthermore it was a crime motivated by real hatred and revenge.
"This was a deliberate, brutal and callous murder for which you have shown no remorse and no care for your own daughter.
"Jane Clough was a nurse who devoted her life to the care of others. She had the misfortune to become involved with you.
"She bore your child and then you murdered her, leaving your infant child without a mother and with the prospect of growing up to learn one day that her father murdered her mother."
The court heard that Miss Clough kept a diary, detailing Vass's abuse of her and fears of what he might do.
She and her family, who held a protest outside court before sentencing, were "rocked and devastated" when he was bailed on the rape charges.
Ms Clough was "extremely concerned for her safety", the court was told.
She went to live with her parents and said in her diary that she was worried "Johnny was going to do something stupid" and would "get his revenge".
Dennis Watson QC, prosecuting, said it was clear the motive for the murder was to prevent Ms Clough giving evidence.
He said Vass wanted to "dominate and have complete control" over Ms Clough, despite having relationships with two other women at the same time.
She reported him to police in November 2009, telling officers of months of abuse, including being raped when she was seven months' pregnant.
Text messages between the pair were read out in court, in which she asked him why she should take him back.
One of his replies read: "I do love you Janey. Either get pregnant or engaged. Your choice."
Vass was charged with nine rapes and assault in November 2009 and told a work colleague, Ms Clough's ex-boyfriend, if he was found guilty he would kill her - but the threat was dismissed as "bravado".
Police found three letters on Vass, written after the murder, when they arrested him outside her parents' home the day after the attack.
One to her family said he "could not bear to see her happy with another man".
Another to Ms Clough said: "I consider what I did to be retribution", and the last, to detectives investigating the rapes, was "arrogant and abusive in tone," the court heard.
Det Supt Neil Esseen, who led Lancashire Police's investigation, said Vass had been "vicious and controlling".
"There is no doubt in my mind that he committed this brutal murder to prevent this brave young woman from having her day in court, and testifying as to his previous appalling treatment of her."
He paid tribute to Ms Clough's family who he said had behaved with "dignity and honour" and had given her a voice in the proceedings.
Related Internet Links
The BBC is not responsible for the content of external sites.