Police officers wear body cameras in Lancashire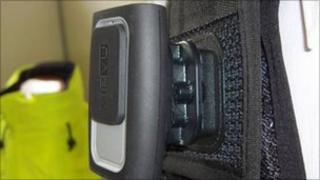 Body cameras are now being worn by officers in Lancashire to capture criminal activity on film.
Police in Chorley, South Ribble and West Lancashire are using the equipment to gather audio and visual evidence on a variety of crimes including domestic violence and anti-social behaviour.
The cameras are the size of a mobile phone and clip on to stab vests.
Sgt Andy Willis said: "They can gather vital evidence, as well as act as an effective deterrent."
The cameras, which have been funded by the Home Office, have been trialled in other areas of the county where they have proven to be successful in reducing incidents of violence and securing convictions.
Sgt Willis added: "There is a saying that a picture tells a thousand words and by using this latest technology we will be able to gather video evidence that can be presented to the courts to show exactly what happened during an incident."