Talks begin in 'fat' Blackpool bus drivers dispute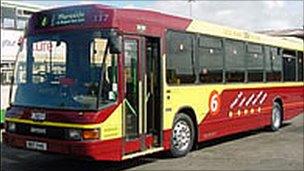 Unions and management at Blackpool Transport were meeting on Monday to resolve the case of two bus drivers suspended for allegedly being too fat to work.
The drivers' union, Unite, warned that if the men were not reinstated it could ballot members for industrial action.
John Boughton, Unite regional organiser, said: "Our members are very angry at what has happened."
The company has said it was acting in the interests of passenger safety.
Mr Boughton said the men had been suspended on full pay after being told they needed to lose 7lbs in the next four weeks.
He added: "And then they face a period of up to 12 months' unpaid suspension to lose an unspecified amount of further weight."
Blackpool Transport is an arm's length body of Blackpool Council and provides transport on the Fylde Coast.
Unite says it has 400 members at the company.
Related Internet Links
The BBC is not responsible for the content of external sites.