BAE jobs fears in Woodford after Nimrod axed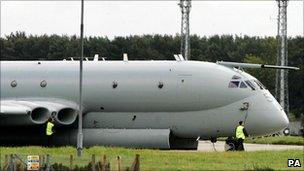 BAE systems workers have been "angered and devastated" by the decision to axe the new Nimrod, the Unite union has said.
More than 1,000 people are working to build the MRA4 surveillance aircraft at BAE in Woodford, Stockport - its final contract before closing in 2012.
The prime minister announced on Tuesday the Nimrod order was being cancelled.
Staff now fear the site could close 18 months ahead of schedule. BAE said this was premature speculation.
David Cameron told the Commons the replacement Nimrod MRA4 reconnaissance planes project had cost more than £3bn and was more than eight years late.
The contract was signed in 1996 for a total of 21 planes. This number was reduced to 12 and then later, nine. Two aircraft have actually been built and these will not be put into service.
BAE systems employs 500 staff at its Woodford site and a further 500 contractors. More than 300 people are also employed in Chadderton, Oldham, working on service support.
But the announcement has left staff fearing for their immediate future, according to John Fussey, of the Unite Union.
"I'm absolutely devastated and I'm totally angry with this decision really," he said.
"There's not much opportunity at any other BAE sites, so I think we're going to end up as supermarket checkout people."
Cheadle MP Mark Hunter has already said it would be "daft" to bring forward the closure of Woodford because most of the money has already been spent.
Asked whether the plant might not close, Mr Fussey said: "We don't know yet. We've got to discuss with the company what happens.
"I've got to hope that BAE Systems actually see the assets on the table and see what the aircraft is capable to do. If they do realise its assets and potential and realise its saleable value with a bit of luck, you never know."
A BAE Systems spokesman told the BBC any speculation about what might happen was just that - speculation.
The defence giant said it would study the details of the review - as well as the upcoming Comprehensive Spending Review - and make a further statement on Thursday.
"Today's announcement gives us the basis on which to adapt our plans," a spokesman said.
Related Internet Links
The BBC is not responsible for the content of external sites.