Chorley benefit mother 'trapped' by welfare system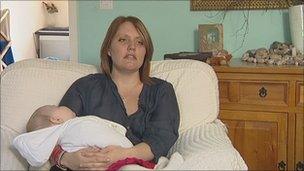 A mother-of-four, who claims £37,000 a year in benefits, is calling for the government to help her get back to work in the wake of the Spending Review.
Kellie-Ann Cottam, 32, from Chorley, suffers from a painful disability called Ehlers Danlos syndrome, and needs help to care for her children.
To maintain the same lifestyle, she said she would need to earn £60,000 a year to meet her family's needs.
Ms Cottam currently claims income support, child benefit, housing benefit and incapacity benefit.
But she also gets free prescriptions, school meals for the children and free trips to the dentist and the optician.
"I am so grateful for the benefits system, I don't have a husband, I don't have a breadwinner - the state is my breadwinner," she said.
Ehlers-Danlos syndrome is a condition which leaves her body unable to produce collagen causing connective tissue disorders and ongoing pain.
Through the government's motability scheme she has also been given a specially adapted people carrier for herself and her children, who are aged between seven months and 14 years of age.
"I didn't believe that 10 years later I would still be in the benefit system - it was only meant to be while I got divorced," she said.
"It was only meant to act as a bridge but it has now become a way of living."
She also has the help of a social worker and a care worker on a regular basis. She said she felt "trapped" by the benefits system and wanted support to help her get back into work.
The Department for Work and Pensions (DWP) said: "The current system is broken and beyond repair.
"It will be gradually replaced with an integrated payment that will sharpen work incentives and personalised support for those with the greatest barriers to employment."
Ms Cottam is now waiting to find out how the cuts will affect her family.