Blackburn man found dead was 'a gentleman'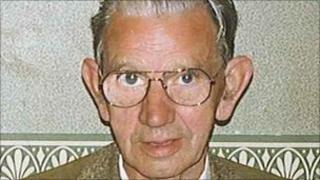 An 89-year-old man who was found dead with head injuries at his home was a "gentleman", a neighbour has said.
Albert Fielding was found by police after a neighbour raised the alarm at Limefield Court, off Preston New Road, Blackburn, on Friday.
Neighbour Alfred Stone said Mr Fielding was a "nice bloke".
Stuart Young, 23, of no fixed address, was charged with murder and remanded in custody by Blackburn Magistrates' Court on Monday.
Three other people who were arrested on Friday have been released.
Not deserved
Mr Stone said: "He was a nice gentleman. He was a bit frail, obviously he was 89 years of age.
"He was a nice bloke, very nice indeed and kind. We used to sit out here many a time talking.
"It's a tragedy, a real tragedy. He didn't deserve it."