Bishop of Blackburn criticises spending review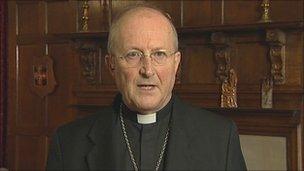 A Lancashire bishop has said the government's spending review was a "victimisation of the vulnerable".
The Bishop of Blackburn, the Right Reverend Nicholas Reade, said hundreds of thousands of "less advantaged people" will be affected by the cuts.
But Andrew Stephenson, Conservative MP for Pendle, said the remarks were "misguided".
East Lancashire was found to be one of the most at risk areas to economic shocks in a recent survey for the BBC.
In a statement, Bishop Reade said: "It is hard to read initial details of the chancellor's statement without detecting a victimisation of the most vulnerable.
"Earliest indications suggest those seeking work, suffering housing problems, needing childcare, and young people pursuing further education will be among hundreds of thousands of less advantaged people who will be affected."
Speaking to the BBC, he said he had hoped Lancashire could have played a big part of the government's "big society" but said he feared the cuts would mean this would not be possible.
"The big society is based on neighbourliness. Neighbourliness means you have got to care for the poorest in society," the bishop said.
He said people needed jobs, housing and a good health service but he did not see that the spending review would help meet those needs.
Responding to the bishop's comments, Mr Stephenson said: "I think the bishop's comments are misguided.
"I think if you look at what he said he's clearly been reading too many newspapers and not actually looking at the details of what the coalition government has announced."
Related Internet Links
The BBC is not responsible for the content of external sites.