Lancashire police urged to rethink plan to cut PCSOs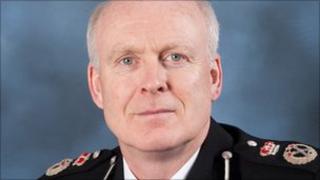 Lancashire's Chief Constable Steve Finnegan has been urged to rethink plans to get rid of his police community support officers (PCSOs).
All 427 PCSOs were told their jobs could go by next March after police cuts were announced in the government's Spending Review.
Conservative MP for Morecambe and Lunesdale David Morris said cuts should not affect frontline staff.
He has tabled a motion in the Commons calling for "alternative cuts".
Mr Morris is urging Lancashire Police Authority to hold an urgent meeting with the county's MPs to work out a solution.
He said the savings should be found by "reducing bureaucracy and waste" rather than by shedding police jobs.
West Lancashire MP Rosie Cooper has also spoken out against the plans to cut PCSO jobs.
She said: "For all the warm words about protecting frontline services the Conservatives, with help from their Lib Dem friends, proposed cuts which could see us lose PCSOs who are an essential front line service.
"PCSOs are value for money, they are the visible presence on our streets dealing with local crime, anti-social behaviour and gathering vital intelligence."
She added: "Since they were introduced, the PCSOs have played a vital role in helping police officers reduce crime across West Lancashire."
Lancashire Constabulary said last week it would need to save £50m over four years in the wake of the Spending Review.
This equates to £220,000 a week.
It has now entered a 90-day consultation with trade unions.
Mr Finnegan has said the decision to consider cutting PCSO jobs was not taken lightly.
But he said there was a "lack of clarity" over the force's financial position.