Thieves take balustrade stones from River Lune viaduct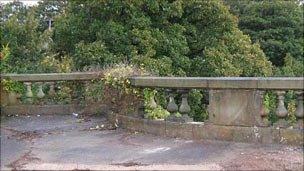 British Waterways are urging people to look out for distinctive balustrades stolen from an 18th Century landmark in Lancashire.
Eight balustrade stones were stolen and 12 others removed from the historic Lune viaduct at Caton Road in Lancaster.
The thieves took the ornamental stones from the bridge, designed by John Rennie, over the River Lune.
Andrew Tegg, from British Waterways, said thieves might try to sell them on.
He described the balustrades, which are more than 200 years old, as "attractive architectural pieces".
Mr Tegg said: "They're a nice bow shaped stone pedestal which some people might think would look nice in their garden."
He said if people were offered them they should inform the authorities.
Lancashire Police also asked people to contact them if they saw anything suspicious in the area between 27 September and 1 October when the theft is believed to have taken place.
Five of the balustrades from the bridge have been retrieved. They were found hidden in a bush.
The theft comes as British Waterways are making plans to restore the Lune Aqueduct to make the structure more of a tourist attraction.
Related Internet Links
The BBC is not responsible for the content of external sites.