Gastric band op 'cancelled over cost'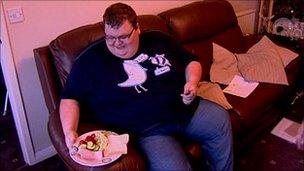 A 32-stone man claims his gastric surgery has been cancelled because of extra costs due to his haemophilia.
Steve Pulford, from Burnley, said he learned by accident that next week's gastric band operation was off.
He said: "When I got the news my heart just sunk, I feel like my future's been taken away from me. I'm absolutely gutted."
East Lancashire NHS Trust said the postponement decision would be reviewed.
Mr Pulford has battled with his weight for 10 years, trying diets and exercise and and even worked with a dietician but he cannot lose weight.
His local NHS trust agreed to fund the surgery earlier this year.
He claims he only discovered next Tuesday's procedure was cancelled when he phoned a nurse to discuss another matter.
He said: "They told me that due to extra costs concerning my haemophilia it was just too expensive to go ahead at the minute and I would have to go through a complaints service and it had to be put before the board again," he said.
He added: "I've been trying to lose weight for 10 years.... I know the general public might think it's the easy way out but I wouldn't be doing this if I didn't have to."
East Lancashire NHS Trust said it did not discuss individual patients but added: "However, the PCT will be considering the request for funding at a clinically-led review in line with the PCT's normal processes."
Related Internet Links
The BBC is not responsible for the content of external sites.