Otters return to Blackpool after 50 year break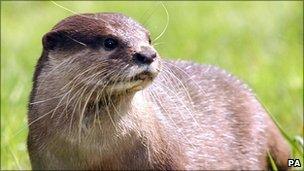 Rangers at a Blackpool nature reserve have uncovered evidence of their first wild otter for more than 50 years.
The first sign the creature had set up home at Marton Mere was some unusually large footprints spotted by rangers in the soft mud, the council said.
A tiny dropping found by an expert from government agency Natural England later confirmed their suspicions.
Rangers are yet to sight the elusive creature, which is the first recorded in Blackpool since the early 1950s.
Councillor Tony Williams, of Blackpool Council, said: "This is a great find for Blackpool and brilliant news for the reserve.
"We have a wide range of wildlife at Marton Mere and it's a fantastic place for people to visit and explore.
"In recent years much work has been done to improve water quality and increase fish stocks, so this remarkable animal is making a welcome come back."
Otters almost disappeared from England in the 1970s after pesticides routinely used three decades ago brought their numbers to near extinction levels.
But now many of those chemicals have been banned the creatures are present once again in many rivers across England, according to the Environment Agency.
Related Internet Links
The BBC is not responsible for the content of external sites.