Paul Maynard MP calls for desecrating memorial offence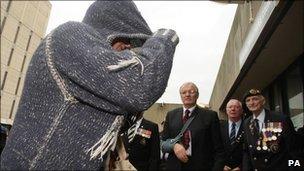 A Lancashire MP has said he wants to change the law to make desecrating a war memorial a specific offence.
Blackpool North and Cleveleys MP Paul Maynard's comments come after a woman was given a suspended sentence for urinating on the resort's memorial.
Wendy Lewis, 32, of Blackpool, who also performed a sex act on a man near the memorial, was found guilty of outraging public decency in August.
"We need to make sure the law matches the offence caused," Mr Maynard said.
"Unfortunately the offences that we had to prosecute Wendy Lewis under simply didn't allow the courts to take into account the fact that it was a war memorial that she damaged, and not just a piece of property."
The Conservative MP, who joined Parliament in May, said it would be a long process but he planned to write to all councils in Lancashire to discover "the prominence of the problem".
He said the term war memorial would need to be legally defined, as would the specific offence, before a suitable punishment could be determined.
Lewis, of Princess Street, was caught on CCTV relieving herself at the memorial, and performing a sex act nearby, in May. She was given a 15-week jail term, suspended for a year.
Veterans were appalled by her actions. Speaking after Lewis was sentenced, Ian Coleman, president of Blackpool Royal British Legion, said: "If you abuse this memorial you are abusing everyone who has been killed in the service of their country."
Related Internet Links
The BBC is not responsible for the content of external sites.