New jobs at Skelmersdale warfare mask company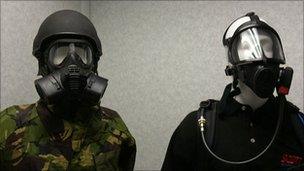 Fifty new jobs have been created at a west Lancashire firm which produces masks to combat the effects of chemical and biological warfare.
The Ministry of Defence (MOD) has signed a contract with Scott Health and Safety Facility in Skelmersdale.
The firm has "taken a quantum leap" in delivering chemical, biological, radiological and nuclear protection to military personnel.
"It is cutting edge technology in Skelmersdale," a firm director said.
The company has just finished making its 40,000th mask, and has been contracted to make at least 300,000 over the next three years.
The new roles have been created across the company, in assembling, engineering and robotics.
Nigel Holmes, Scott's global military and civil defence director, said: "This is real cutting edge stuff.
"The masks have been made to suit the new challenges of chemical and biological warfare."
Related Internet Links
The BBC is not responsible for the content of external sites.