Chorley Cemetery's baby garden to be improved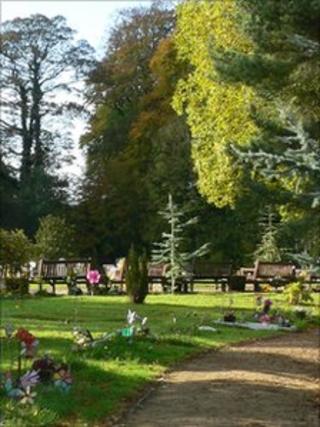 Families of young children buried at a Lancashire cemetery are being asked to contribute to new plans for the memorial garden.
More than 60 youngsters aged under three are buried at Chorley Cemetery.
The council wants to improve the garden by introducing timber edging round each plot and allowing stones to be put in place so it is more "befitting".
They have tried to contact all relatives but have not yet been able to reach them all.
Martyn Webster, whose daughter Emma Joanne is buried at the baby garden, said: "We're really pleased that the council is looking to improve the baby garden and especially that they are asking the families for their thoughts because it is a very special place to us."
He said the plans would "make a big difference" and urged other families to contact the council.
'Very supportive'
Councillor Eric Bell said: "We appreciate this is a very sensitive issue, which is why we are keen to speak with as many people as possible and get approval for our ideas.
"Everyone we have spoken to so far has been supportive of the ideas, are pleased that we've asked them and delighted that we have altered our plans based on what they've suggested."
He said it was "vital" that the council spoke to as many families as possible as items would need to be removed from the graves while work was carried out.
The work is planned for the end of November and the council will be inviting all the families to help with the improvements.