Fleetwood pier proposals rejected by Wyre Council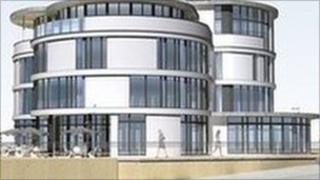 Proposals for a hotel complex on the site of Fleetwood pier in Lancashire have been rejected by Wyre Council.
The owner of the old pier, which burnt down in 2008, had been hoping the new development would replace it.
Businessman Mike Simmons, who is also known as Joey Blower, was planning to build a 43-room hotel building containing bars, restaurants and a gym.
Over 1200 people signed a petition led by Fleetwood councillor Alan Marsh opposing the plans.
Mr Marsh said the correct decision was made. "It's OK saying put a 43 bedroom hotel there with a restaurant and a cafe but we've got all those things and we can't fill what we've got.
"We want development but not that sort of development."
Fleetwood Civic Society also objected to the complex claiming it would spoil the Esplanade.
Mr Simmons did not want comment.