Students protest outside MP's surgery in Burnley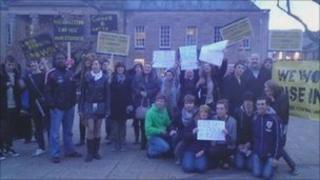 Students have staged a protest outside Burnley's main library, where Liberal Democrat MP Gordon Birtwistle was holding his regular surgery.
The students were demonstrating against government plans to raise tuition fees and cut higher education budgets.
On Wednesday, thousands of students held protests and marches in cities across the country including London, Liverpool and Manchester.
Lib Dem MPs pledged to vote against an increase before the election.
About 50 people protested in Burnley on Friday.
National organisers claimed 130,000 people took part in demonstrations this week, involving school pupils and university and college students.
MPs will have to vote on whether to raise fees to an upper level of £9,000 per year in England.
Universities Minister David Willetts says that young people should recognise that there will be no up-front payments and that they will only have to pay back loans when they have graduated and are earning at least £21,000 a year.