Man jailed for robbing 84-year-old woman in Burnley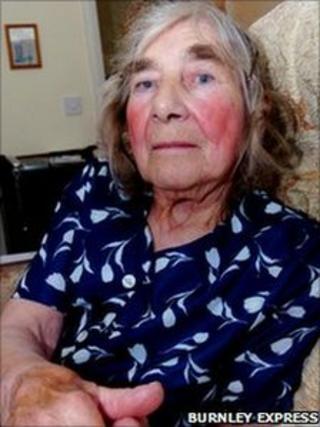 A heroin addict who robbed an 84-year-old woman who died five weeks later has been jailed.
Michael Brooks pushed over Ora Walton as she left the post office in Burnley on 18 October. He rummaged through her pockets and stole her pension.
It was the third time Ms Walton had been attacked in two years. She died of a heart attack on 21 November.
Brooks, 58, of Burnley, admitted robbery and was jailed for five years and four months at Burnley Crown Court.
Ms Walton, who was unsteady on her feet and walked with a hunch, went to the post office to collect her £136.91 pension.
Brooks was sitting on a wall nearby and made a "planned and premeditated" decision to rob the retired weaver, the court heard.
He had been due to borrow money from a friend to buy heroin but failed to find him, so mugged Ms Walton.
Two witnesses rushed to help and she was taken to hospital and later discharged.
Brooks was arrested after being identified on CCTV. He admitted robbery, saying all the money had been spent on heroin.
The local community raised money to replace her lost pension.
'Mean and despicable'
Ms Walton was found dead in her bed by her sister, with whom she lived, on 21 November.
Before her death she spoke of how she had been targeted before.
She was mugged in a back street and had her bag snatched.
On another occasion, two men claiming to be from the gas board burst into her home and stole cash she had been saving to buy Christmas presents.
Judge Simon Newell, sentencing, said: "This was mean and despicable and it would incite revulsion from the community.
"One hundred and thirty-nine pounds to some might not seem a lot of money, but it was all the money Ora Walton had for that week, and her main concern was how she was going to survive the week."