Lancashire man denies fatal attack on 15-month-old boy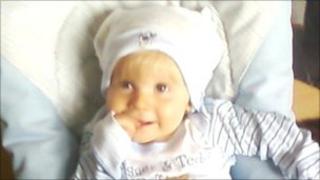 A man from Lancashire who filmed himself attacking a 15-month-old boy on his mobile phone has denied assaulting him on the day he died.
Darren Newton, 32, of Earby, recorded the abuse of Charlie Hunt, his girlfriend's son, over a four-month period, Manchester Crown Court heard.
The baby died on 19 November 2009 in a final attack by Newton, which was not caught on camera, prosecutors claim.
Newton has admitted 12 counts of child cruelty but denies murder.
He has also pleaded not guilty to a further two counts of child cruelty.
It is alleged Newton hid his "dark and wicked side" to film the graphic clips while Charlie's mother, Laura Chapman, was at work.
Jurors have been shown the clips, which Newton gave titles, including "Crying, no toys in pen, ahhhh", "Squeezing toe in cot", "Two minutes of pain" and "Shivering no water" - taken when Charlie was naked in an empty bath.
Newton is alleged to have hit Charlie "a lot harder" in the final, fatal attack than in the assaults filmed on his mobile phone. The clips were found on the phone after his arrest.
'Did not enjoy attacks'
A post-mortem examination found the child had severe head injuries, including swelling and bleeding to his brain and damage and bleeding to his eyes.
Newton told jurors on Tuesday he "never touched" Charlie on the day he died.
When asked, he said he was sorry for a video which was shown to the jury on Tuesday morning.
He denied filming the attacks so he could watch them again later.
Dennis Watson QC, prosecuting, said: "Is it too difficult to admit you enjoyed doing what you were doing to him, which is why you did it again and again?"
"I did not enjoy doing it," Newton replied.
He said he could not explain why he had hit a sobbing Charlie on the head 13 times in a three-minute film he had saved as "Happy Slap".
The child had been seen by a GP and spent a night in hospital three weeks before his death suffering "fits" which doctors could not explain as they were not aware of any cruelty.
The trial continues.