Fleetwood to Larne ferry to stop sailing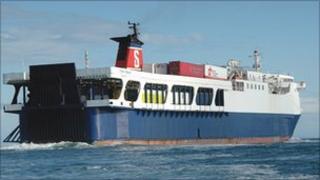 The shipping line Stena has announced that it is stopping sailings on a Lancashire to Northern Ireland route.
The company said the Fleetwood to Larne service was losing money. It plans to stop it at the end of the year.
The closure will result in a total of 140 job losses - 62 from Fleetwood and the surrounding area.
Lancaster and Fleetwood MP Eric Ollerenshaw said he was shocked by the news and described it as "another devastating blow" for the town.
"I am stunned and annoyed as there was no prior consultation or even warning of this," he said.
'Ripple effect'
"It is a real blow for Fleetwood. It is not just the immediate job losses for Stena employees but also the knock-on trade from having three ferries a day sailing into the town and two a day on weekend.
"It is the ripple effect of people parking up and spending money in the town."
Mr Ollerenshaw said he was consulting Minister for Transport Mike Penning for assistance and he was going with the leader of Wyre Borough Council, Peter Gibson, on Friday to speak to the Associated British Ports to see if anything can be done to help the port.
The freight liner said in a statement there was "no option other than closure" of the route as it was incurring "serious losses" even with a number of cost-saving measures including using older vessels.
The rest of the job losses will affect employees from the rest UK and Northern Ireland, the firm said.
Stena said it planned to focus on two newly-acquired routes from DFDS Seaways to Belfast from Liverpool and Heysham.
The Fleetwood port will remain open for fishing vessels, commercial vessels and the marina.