Mobile phone abuse man Darren Newton murdered baby boy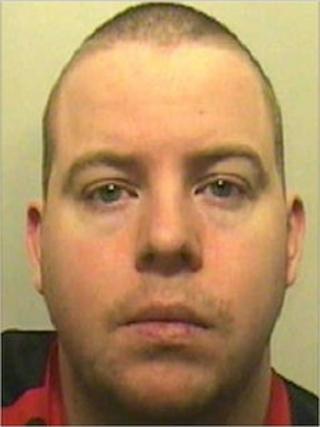 A man who murdered his girlfriend's 15-month-old son after months of filming himself abusing the little boy has been jailed for life.
Darren Newton, of Earby in Lancashire, had denied killing Charlie Hunt but admitted 12 counts of cruelty. The baby died of head injuries in November 2009.
The prosecution at Manchester Crown Court said Newton, 32, took videos on his phone for "pleasure".
He must serve a minimum term of 24 years before applying for parole.
The jury took 40 minutes to find the factory worker guilty of murder and one count of child cruelty. They cleared him of another charge of child cruelty.
Newton named the video clips "crying, no toys in pen, ahhhh", "squeezing toe in cot", "two minutes of pain" and "shivering no water".
The latter was taken on a November night when Charlie was naked in an empty bath.
'Futile death'
In one graphic clip, titled "Happy slap", which was filmed two weeks before Charlie died, Newton was seen to slap the child 13 times on the head as he screamed and cried.
Jailing him, Justice Stephen Irwin ordered that the video clips be preserved so the parole board could watch them before he is eventually considered for release.
He told him: "It was spiteful and cruel behaviour. It was also inexplicable to any normal way of thinking.
"It was a series of repeated acts of cruelty for no obvious motive other than the wish to be cruel.
"Anyone who watches the video clips of some of what you did - and I'm convinced you recorded only some of what you did - will genuinely struggle to understand why you came to do this.
"Eventually you killed him. It was a futile and wasteful death of an innocent toddler."
The boy's parents described Newton as "evil" and a "monster".
On 19 November last year, he finished his shift at a local factory and went to look after Charlie.
Three hours later the little boy was dead after a final assault from Newton.
This time he did not capture the attack on film, but doctors at Airedale Hospital, West Yorkshire, noticed bruises on his right eyelid, right cheek and right big toe.
A post-mortem examination found the repeated slaps to Charlie's head had caused extensive bleeding to his retina and brain, swelling to the brain and deep bruising to the top of the head.
There was also an area of "dead" brain tissue.
Charlie's mother had split with the boy's father and met Newton in early 2009, after moving in next door to him in Earby where he lived with his parents.
She thought Newton, who has no previous convictions, was a quiet, caring and loving man, good with Charlie though "protective" over his mobile phone.
Replaying the clips
Newton began to abuse Charlie in June last year, gradually hitting him harder and harder, until his death six months later.
He was arrested for murder, his phone was seized and examined by detectives who found the clips.
The court heard how the defendant enjoyed keeping and replaying the clips to himself.
Outside court, Det Ch Insp Andy Murphy said: "This was a truly horrific and devastating crime committed by a man who has shown little or no remorse for his actions or even offered any sort of explanation for what he has done.
"Darren Newton is clearly a violent and controlling man.
"Charlie's family have been left distraught by their loss and our thoughts remain with them at this difficult time."