Preston teaching centre destroyed by former mill fire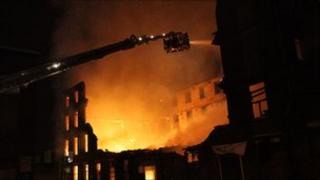 An education centre and several businesses have been totally destroyed after a fire swept through a former mill in Preston.
At its height, between 70 and 80 firefighters were tackling the blaze at the four-storey building in Kent Street.
The fire broke out at about 1640 GMT on Friday and continued to burn overnight.
Crews are still at the scene, but are dampening down. An investigation is under way into how it started.
A Lancashire Fire and Rescue spokesman said at one stage the wind was so strong and the flames so high there was a risk that it would spread, but they managed to contain it.
Islamic centre
No-one was injured in the fire but the entire building will have to be demolished.
Crews managed to save 60 motorcycles that were stored on the ground floor of the mill, but IQRA Education Centre, an Islamic teaching centre, was destroyed.
"We are not sure how the fire started but we do not think it was arson. Fire investigators have been talking to business owners and teachers on the site to try and find out how it started but we do think it was accidental.
"The flames spread so quickly because the structure was so dense. Fortunately we managed to contain it," he added.