Queen honours Lancashire firefighter Dean Seaward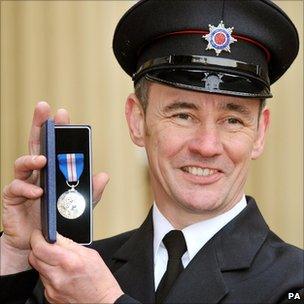 A firefighter who climbed on to the roof of a burning building amid thick smoke to save a family has been given a Queen's Gallantry Medal.
Dean Seaward climbed a ladder despite not having breathing apparatus to rescue the family after an arson attack in Blackpool.
Mr Seaward, 49, from Preston, was presented with the award at Buckingham Palace.
"It's come as a big shock getting this," he said.
"The incident seems like a long time ago but it's one of those events that come once in your career," added Mr Seaward.
Andrzej Jakubowski, his wife Katarzyna and son Michal were led down to safety after the arson attack at the Maryam takeaway on Lytham Road, in the early hours of 25 November 2008.
Firefighters were told that a family from the first-floor flat had climbed on to a roof to escape the flames, cutting off any escape route.
Crews could not see the roof because of the dense smoke generated by the fire, but fearing the family might jump or fall, Mr Seaward decided he had no time to get into his breathing gear and scrambled up the ladder.
"It was an arson attack so it was quite a ferocious fire, there had been a big explosion before we got there and there were people on the roof and one of the guys was hanging out the window - it was chaotic at the time," he said.
Mr Seaward added: "It was just one of those decisions you make on instinct.
"But I'm not a hero, the soldiers in Afghanistan are heroes to me, they're doing a much braver thing than I did."
Related Internet Links
The BBC is not responsible for the content of external sites.