Blackpool speeding death tram driver jailed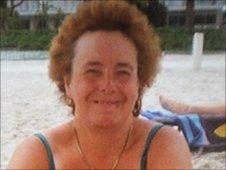 A tram driver who was three times the speed limit when he hit and killed a pensioner on Blackpool promenade has been jailed for 15 months.
Paul Edensor, 36, of Alexander Road, Thornton Cleveleys, was sentenced at Preston Crown Court after admitting causing death by careless driving.
Maureen Foxwell, 70, of Caerphilly, South Wales, was celebrating her wedding anniversary when she was struck by the tram in August last year.
The court heard that Edensor, who had been driving trams for two months, had been travelling between 13mph and 17mph.
The speed limit near tram stops, where Mrs Foxwell was hit, is 4mph.
Kirsten McAteer, prosecuting, said he drove past the passengers who had been waiting at the tram stop and straight into Mrs Foxwell.
He had already been disciplined for speeding while driving the trams, the court was told.
She said the couple, who were staying at nearby Norbreck Castle Hotel, were intending to catch a tram to head into the town centre.
The court heard how they expected the tram to come to a halt, but Edensor ignored Blackpool Transport's guidelines of stopping for waiting passengers.
"The defendant failed to see Mrs Foxwell and he failed to take appropriate action," Ms McAteer added.
Reading from her husband, Barry Foxwell's police statement, she told the court that he and his wife approached the crossing "carefully" and he pointed out to his wife that the tram was approaching.
"He heard a single blast of the horn as the tram came past him," she said.
"He looked behind and saw his wife face-down on the ground with blood coming from her mouth.
"The tram came to a stop and he saw the driver emerge looking flustered and saying he didn't have time to stop."
It emerged that Edensor had been under covert surveillance for some time because his bosses had become aware that he was not stopping to pick up passengers and he was spotted speeding.
The defendant, who had 12 previous convictions - none related to driving offences - was sacked by the transport firm after the accident.
Michael Hayton, defending, said he was "remorseful" over what happened.
"This is a particularly tragic case and the defendant offers his sincere and genuine remorse."
Judge Pamela Badley was handed two victim impact statements from Mr Foxwell which were not read out in open court.
She said they disclosed that Blackpool had a "special resonance" for the couple and Mr Foxwell's loss was "very movingly" set out.
She told Edensor: "As a tram driver, you failed in your duty to ensure the safety of the public."
He was jailed for 15 months and banned from driving for four years.
Acting Sgt Adam Lloyd, of Lancashire Police, said: "The family are content with the sentence but in no way does that ease the pain of the loss of a mother and wife."
Related Internet Links
The BBC is not responsible for the content of external sites.