Whooper swans arriving at Martin Mere in record numbers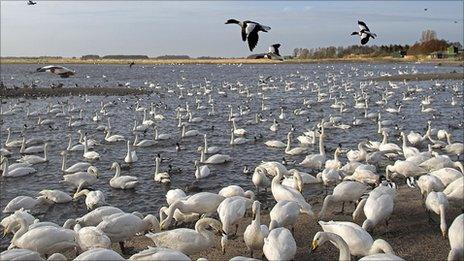 Wildlife bosses are celebrating the arrival of a record number of whooper swans at a Lancashire wetland centre.
Officials counted 1,940 of the birds at the Wildfowl and Wetlands Trust's (WWT) Martin Mere centre earlier - the previous record was 1,860.
The swans spend the summer in Iceland and use Martin Mere as a winter roost.
A combination of the freezing weather, a successful breeding season and the fact staff provide daily food has boosted their numbers, WWT said.
Eileen Rees, head of the UK Waterbird Conservation Programme, said: "In the 1970s the maximum count for Whooper swans was less than 10 at Martin Mere.
"But the provision of a secure roost in an area where the post-harvest waste potatoes and cereal stubbles provide a good food supply for the birds, saw an increase in numbers of whooper swans during the 1980s and 1990s."
Hundreds of whooper swans swoop down on to the water at about 1500 GMT for feeding every day.
Centre manager Andy Wooldridge said: "We celebrated Martin Mere's 35th birthday this year and it is fantastic that we are finishing the year with such great news that swan numbers are continuing to increase thanks to the hard work of our reserve staff to provide such a perfect location for the swans to be safe over the winter."
Related Internet Links
The BBC is not responsible for the content of external sites.