Dog walker falls into icy river in Clitheroe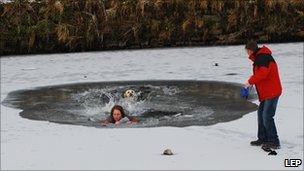 People in Lancashire are being warned to stay away from icy water after a dog walker who fell into a frozen river at the weekend was left seriously ill.
The woman was walking her Labrador by the River Ribble near Brungerly Bridge in Clitheroe when the dog went on to the ice and fell into the water.
She tried to pull her pet out, but the ice gave way and she fell in. A man used the dog's lead to pull her out.
The dog was also pulled to safety and the woman was taken to hospital.
Police are urging people to take extra care during the winter weather.
The force said pedestrians should also take extra care, wear clothing that makes them visible to motorists and, where the weather is particularly bad, only venture out when necessary.
Last month a 49-year-old man died after jumping into the River Lune in Lancashire in an attempt to save his pet springer spaniel.
Liverpool Coastguards have urged people to call in experts to rescue animals rather than try themselves.
Related Internet Links
The BBC is not responsible for the content of external sites.