Blackpool Council orders promenade clean-up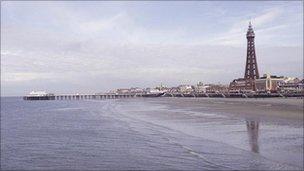 Blackpool Council is to order some businesses along its promenade to renovate their buildings to keep up with the area's improved image.
It is to issue formal notices demanding that landlords paint and repair the outside of properties on Central Promenade opposite the tower.
Some owners have already agreed to renovate following informal discussions with the council.
The council has invested £87m in regenerating the promenade district.
Maxine Callow, cabinet member for tourism and regeneration, said: "We are investing a huge amount of time and money creating a world class seafront and it's important the private sector matches our efforts and improves its buildings.
"We are taking this action now at the end of what's been a very busy season for Blackpool.
"We want people to make the improvements now whilst town is quieter.
"By next summer the section of the promenade outside the tower will be completely transformed and wouldn't it be wonderful if the properties opposite had also received a makeover?"
Related Internet Links
The BBC is not responsible for the content of external sites.