Blackburn man jailed for single punch death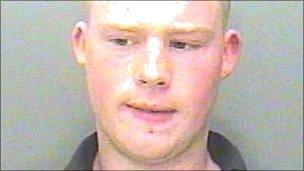 A teenager who killed a man with a single punch in a Lancashire street has been jailed for four years.
Martin Maughan, 26, fell to the ground after being attacked by 19-year-old Jason Reilly in the Mill Hill area of Blackburn on 25 July.
He suffered serious head injuries and died in hospital four days later.
Reilly, of Morley Avenue, Blackburn, admitted manslaughter in a previous hearing at Preston Crown Court and was sentenced on Tuesday.
Speaking after the hearing, Insp Mark Rothwell of Lancashire Police's Major Investigation Team said: "'Once again we have seen a man lose his life and a family lose a loved one as a result of a single punch.
"People need to realise that throwing punches places the lives of others in jeopardy.
"It doesn't take an especially strong person to deliver such a blow; all it needs is to be strong enough to cause them to fall to the pavement where they receive a fatal injury to the head.
"If you catch someone off balance or off-guard, then the force required to cause this can be very minimal indeed.
"This is an extremely tragic case from which I only hope that lessons are learned."