Single punch death victim's father talks to prisoners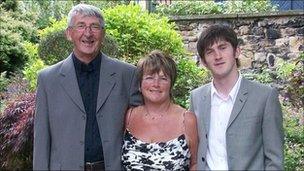 The father of a man who was killed with a single punch after intervening in a row has spoken to prisoners to urge them to think of victims of crime.
Adam Rogers, 24, died after he was knocked to the ground in Blackburn in July 2009.
William Upton, 17, from Rishton, was convicted of manslaughter and detained for four years in March.
David Rogers said he had a positive reaction from inmates and hoped his message would stay with them.
"On each occasion the impact has been genuinely very sincere and widespread throughout the whole group," he said.
"Each one of them has come up to me at the end and said personally how sorry they were and how much it had given them to think about.
"It was quite amazing really."
Mr Rogers said he had also received letters from several inmates, saying his talk had made them consider the victims of their crimes.
Trouble had broken out in a Blackburn nightclub in the early hours of 5 July and spilled on to the street outside.
As Adam Rogers, from Blackburn, tried to usher Upton away from the trouble he delivered a "fierce and powerful" blow, Preston Crown Court heard.
The football coach, described as "a lovely young man", was knocked unconscious and hit his head on the pavement.
He never regained consciousness and died later that day.
Upton, who had a history of violence and had been drinking all day and all evening in pubs, fled the scene. He handed himself in to police the next day.
When asked about the incident by a friend on site Facebook, Upton replied: "Timber".
Since Adam's death, his family have launched an anti-violence campaign called Every Action Has Consequences.
They want to change young people's attitudes to violence and drink.
Mr Rogers has spoken to inmates at Lancaster Castle and Garth prisons.
He said he would speak to any groups about Adam's story if it would help change their lives for the better.
He also said he believed prisoners should be rehabilitated so they did not leave "worse or no better than when they went in".
He added: "If anything can be done to help them integrate themselves back into a normal life when they come out of prison, it has to be good for everybody."
Related Internet Links
The BBC is not responsible for the content of external sites.