Blackburn death crash driver will not be deported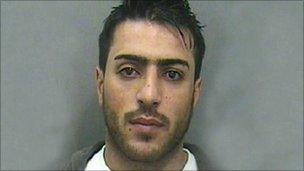 An asylum-seeker who left a girl dying under the wheels of his car when he fled the scene can stay in the UK, two immigration judges have ruled.
Iraqi Kurd Aso Mohammed Ibrahim was jailed for four months after knocking down Amy Houston in Blackburn in 2003.
Her father Paul Houston, from Darwen, told judges last month they had the power to bring his "seven years of hell to an end" by sending Ibrahim to Iraq.
But two senior immigration judges have now ruled he can remain in the UK.
Mr Houston had to make the decision to turn off his daughter's life support machine hours after the crash.
He has since campaigned to get Ibrahim deported.
Mr Houston said he was "frustrated and angry" at the decision.
The Upper Tribunal of the Immigration and Asylum Chamber, sitting in Manchester, heard Ibrahim had previous criminal convictions.
The 33-year-old, who did not hold a driving licence, was jailed for four months for driving while disqualified and failing to stop after an accident.
On his release he met a British woman and they had two children, now aged four and three.
He was due to be deported but won the right to stay in the UK in December 2009 after arguing that, because he now had two children since being freed from prison, he had a right to a family life under human rights law.
Two senior immigration judges have now rejected a final appeal by the UK Border Agency to have him deported.
Mr Houston said: "What are the judges saying here? They are saying it doesn't matter what you do when you come here, who you kill, what laws you break, as long as you have a child here you can stay?
"You work hard, play by the rules, pay your taxes and this is how you get treated. What does that say about politicians, our leaders and the legal system? It's a joke."
He added: "This man is a criminal, do we have no say who we allow in this country?
"He's not a life-saving surgeon or a Nobel prize winner. He was a criminal before, a criminal now and he will continue being a criminal.
"The Human Rights Act is for everybody, not just asylum-seekers and terrorists.
"How can he say he's deprived of his right to a family life? The only person deprived of a family life is me. Amy was my only family."
"They are obsessed with the rights of others from Pakistan, Afghanistan and Iraq. Where are my human rights?"
Related Internet Links
The BBC is not responsible for the content of external sites.