Bishop of Blackburn wants protests over government cuts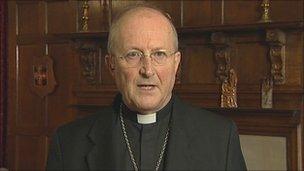 The Bishop of Blackburn has called for "legitimate Christian protests" against government cuts.
The Right Reverend Nicholas Reade said he did not want "rowdy demonstrations" but believed it was important to try and save jobs and public services.
He told BBC Radio Lancashire he would repeat the call during his Christmas Day sermon.
The government has said the cuts are necessary for economic recovery following the recession.
Bishop Reade, who has spoken out publicly against the speed and depth of the cuts on a number of occasions, said: "We in the church are probably are going to have to face the fact that we are going to have to raise our game in the coming year by engaging in legitimate Christian protests.
"We need to do this on behalf of those who are losing their jobs and for those who are seeing their public services undermined and for those whose hope for higher education is jeopardised.
"Let me make myself clear I'm not backing violent student protests, but my heart goes out to those that see their education jeopardised."
He called for the government to explain exactly what their Big Society idea meant.
"We (the church) have been have been preaching about the Big Society since the first day of the Pentecost.
"But I'm not prepared to accept that we should do work and pay for work that should be undertaken by the government."
Related Internet Links
The BBC is not responsible for the content of external sites.