Candles to remember Lancashire cancer deaths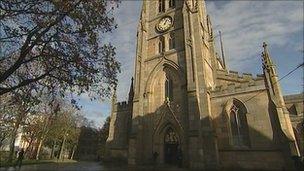 Candles of remembrance are being lit at Blackburn Cathedral for those who have lost their lives to cancer.
The appeal, being held at 25 cathedrals across the UK, is being run by the World Cancer Research Fund (WCRF) charity.
It said the candles were a physical reminder at a time when people's thoughts often turned to departed friends and relatives.
The period of remembrance continues through until Twelth Night.
The WCRF charity funds research into links between cancer and people's diet and lifestyle.
Teresa Nightingale, general manager, said: "The candles are a way for people to remember those they've lost to cancer at a time of year when friends and family are together.
"The appeal offers a physical reminder of a loved one in the form of the candle but it also offers hope for the future by helping us raise awareness of cancer prevention."
Three services were taking place at the Cathedral on Christmas Day, beginning with Holy Communion at 0800 GMT.
Related Internet Links
The BBC is not responsible for the content of external sites.