Surge in flu cases at east Lancashire hospitals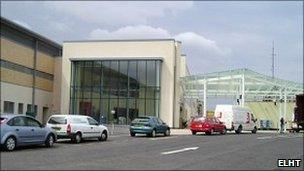 Flu sufferers are being urged to stay away from hospital after a surge in numbers attending emergency units in east Lancashire.
Hospital staff at Royal Blackburn and Burnley General fear that people with the virus could pass it on to patients with life-threatening illnesses.
Doctors said sufferers should stay at home, take painkillers and rest.
East Lancashire Hospitals NHS Trust (ELHT) said people in vulnerable groups should arrange to have the flu vaccine.
A total of 579 people attended the hospitals' emergency units in the last 24 hours - a 14% rise on 2009, the trust said.
Dr Geraint Jones, ELHT medical director, said people with symptoms should not be visiting hospitals which are only likely to turn them away.
"Flu is a viral illness, so doctors at hospital can only tell patients to get rest, take painkillers and keep warm," he said.
"This advice is available on the NHS Choices website and by calling NHS Direct, so people are travelling to hospital and waiting at our urgent care centres for the same information they would have received if they had stayed at home."
People with chronic lung, heart, liver, kidney or neurological problems, those with weakened immune systems - as well as over-65s and pregnant women - can become seriously ill with swine flu.
"These people should make sure they have the flu vaccine to protect themselves," Dr Jones added.
Related Internet Links
The BBC is not responsible for the content of external sites.