Legal challenge against £700m Preston Tithebarn plans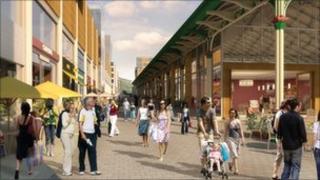 The £700m redevelopment of Preston city centre is facing a legal challenge from Blackburn with Darwen council.
Local Government Secretary Eric Pickles in November over-ruled a planning inspector's recommendation to reject the Tithebarn shopping development.
Now the council has confirmed it is taking legal action after the decision, which Blackburn MP Jack Straw called "perverse".
Preston Council leader Ken Hudson said: "We are just in utter disbelief."
"It means more expense to the taxpayers of Blackburn and yet more delays and uncertainty for Preston," he added.
"How Blackburn can justify spending public money on another un-necessary legal challenge to Tithebarn at a time when they are making job cuts, is quite simply beyond us and no doubt most reasonable people."
'Procedural improprieties'
The plans had been opposed by neighbouring councils in Blackburn and Blackpool which saw it as a threat to their own towns' trading futures.
The inspector's report supported the councils' opposition, and advised that the planning application be refused.
But Mr Pickles said the development would not adversely affect the towns and approved the plans.
Councillor Dave Harling, executive member for regeneration at Blackburn, said the council wanted to establish how Mr Pickles arrived at his decision.
He said council officers believed there were "procedural improprieties that need further investigation".
"The impact of the minister's unjustified decision will have a negative effect on Blackburn and other local towns, which the minister did not appear to think was important," he added.
The council said it was launching a High Court appeal against the minister's decision to approve the development at public inquiry - but denied it would cost taxpayers any money.
Councillor Andy Kay, executive member for resources, said: "The costs of any appeal formed part of the original legal fees.
"There is a lot at stake - not only local jobs, local businesses but also the long term future of Blackburn town centre."
"Our investment in the town centre, which is valued at tens of millions of pounds, including the new Mall and our new market could be seriously jeopardised by a development of the scale of Tithebarn."
Blackburn with Darwen Council is facing cuts of about £48m over the next four years, and has warned that up to 35% of back office staff could face redundancy.
A special council meeting is being held on Thursday to debate the cuts.