Blackburn council could shed up to 1,700 jobs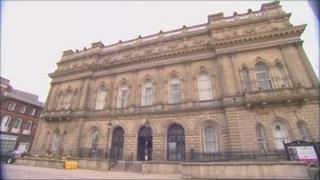 About 1,700 council staff in Blackburn - nearly half of the workforce - are at risk of losing their jobs.
The figure was revealed after Blackburn with Darwen Council agreed cuts of £24m to its budget at a meeting on Thursday.
Measures include slashing back office services by 35% and reducing some councillors' allowances by 10%.
The Labour-run authority said residents would see a "big difference" in council services but added that it "no choice" after being handed a £33m grant cut.
It has pledged to prioritise services for the most vulnerable residents.
Despite the cuts, councillors agreed in principle to freeze council tax for 2011-12 subject to additional government funding.
Council leader Kate Hollern said: "Unfortunately the level of grant we have received from government means we've had no choice to but make the toughest decisions about cuts this council has ever seen."
About 400 staff had already been told they were at risk of redundancy before the meeting on Thursday. Now a further 1,300 have been given notice.
The authority, which had already agreed cost-saving measures such as sharing office functions with the local NHS trust, employs about 3,500 people.
"We have listening to what residents and staff have told us are their priorities but haven't been able to fully protect frontline services," Mrs Hollern added.
"The most vital services will remain and we will be protecting our most vulnerable, but there is no doubt that people will see a big difference in their council services.
"Early retirement, voluntary redundancies and a policy of not filing vacant posts will help to minimise compulsory job losses but sadly these are unavoidable."
Trade unions have been notified and the council has entered a 90-day consultation process about the job losses.