Second inquest to probe restraint of young people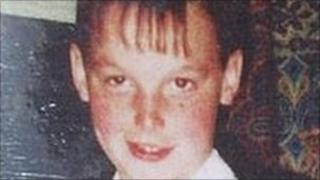 A second inquest into the youngest person to die in UK custody will look at how young people are restrained, a coroner has said.
Adam Rickwood, of Burnley, Lancashire, was found hanging at Hassockfield Secure Training Centre, County Durham, in 2004. He was 14.
Hours before he died, he was struck on the nose - using the Nose Distraction Technique - and carried to his cell.
The High Court ordered a second inquest saying the technique was unlawful.
Judges also said the first jury was not told of Adam's removal from association with other pupils.
Assistant Deputy Coroner Jeremy Freedman told a jury at Durham County Council Offices in Easington that the second inquest would be a wide ranging inquiry.
"You will hear about matters which do not impact immediately on the circumstances of Adam's death but because of the context of this death and the issues which it has raised, it is necessary for there to be a more extensive inquiry than would otherwise be the case," he said.
"It is agreed now by all the interested parties that what happened to Adam in the early evening of that night was both unlawful and illegal," he added.
The jury heard Adam had refused to be punished by being put in his cell at the privately-run institution, and would not move from the association area.
Four members of staff used the Physical Control in Care method, which involved two people grabbing his arms, one placing both hands on his head and the other lifting his legs.
One member of staff, fearing Adam was about to bite, hit his nose, the inquest heard.
He was put in his cell, where hours later he was found hanging.
Adam's mother Carol Pounder, from Burnley, told the hearing her son, who was on remand for wounding, was in tears when he had called her from Hassockfield.
'Never video hidings'
Despite a distance of 150 miles (241km), she visited him twice weekly. She said he should have been placed in an institution which was within 50 miles (80km) of his home.
If there was a disturbance, children were video-recorded, but staff "would never video when they were giving the lads a hiding", she said Adam told her.
Mrs Pounder received a phone call from her son's solicitor on the night he was restrained.
"Adam told her he had been in some kind of fight with staff and his nose was broken," her statement said.
She told jurors her son was "no angel" and had behavioural problems.
Mrs Pounder added: "If you had assaulted any child like that, you would have appeared in court."
The inquest was adjourned until Tuesday.