Child sex attacker who snatched girl from street jailed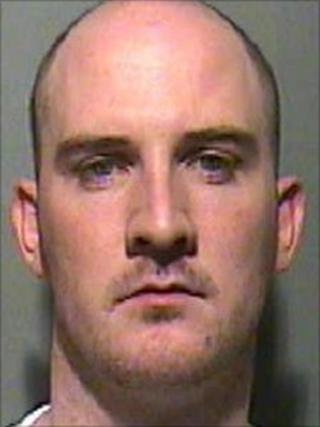 A sex attacker snatched a 10-year-old girl from the street and abused her before taking his young son on holiday.
Kevin Holmes, 28, grabbed the girl in Fleetwood, Lancashire, bundled her into the boot of his car, assaulted her and then abandoned her on wasteland.
Holmes, of Crosby, Liverpool, admitted kidnap, assault occasioning actual bodily harm and sexual assault.
At Preston Crown Court he was given an indeterminate sentence and told he must serve at least five years.
Sentencing, Judge Christopher Cornwall said the attack, on 9 May, had been an "utterly appalling case of sexual depravity".
He added: "Ordinary decent members of the community hearing the terrible details of what you did to this girl are likely to react with disbelief that anyone could act with such inhumanity towards a 10-year-old girl."
'Dark shadow'
Holmes had stood trial in December on a further charge of raping the girl. A not guilty verdict was ordered to be returned after the child felt unable to be cross-examined.
Holmes acted out his "grotesque" sexual fantasies with no regard to the "dark shadow" it would cast over the young girl, Judge Cornwall said.
The child was walking to buy some sweets when Holmes, who was standing by the open boot of his car, asked her for help, which she refused, prosecutor Richard Haworth said.
"As she tried to walk away she was grabbed and manhandled into the boot of his car," Mr Haworth added.
Holmes drove off to an area of wasteland where he sexually assaulted her.
Her 30-minute ordeal ended when he left and ordered her not to turn around or he would kill her by drowning her in a pond, the court heard.
Holmes then drove away and picked up his three-year-old son for a week's break in Yorkshire.
'Horrific act'
He also rang the mother of his child days later to warn that a paedophile was on the loose in the area.
His partner said: "I assumed he was being a caring dad but during that phone call he implied I was a bad mother and that I let him wander around on his own."
Janet Ironfield, defending, said Holmes was a man of previous good character, who came from a respectable family background.
She added that he maintained he had not rehearsed indulging in his sexual fantasy, had not set eyes on the child before and had not pre-planned the attack.
A family statement said: "What this man did to our little girl is horrific. She or any other child should have been able to feel safe playing around the corner in the park in broad daylight."
Det Supt Neil Esseen, of Lancashire police, said it was one of the "most harrowing cases" he had dealt in 25 years of dealing with serious crime.