Blackburn author Josephine Cox leads library campaign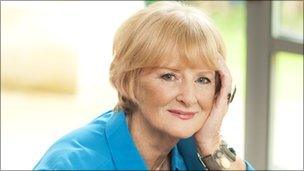 A Lancashire author is calling on the government to save hundreds of libraries under threat by council budget cuts.
Josephine Cox, who has sold 15 million books, said it was "absolutely appalling" libraries were at risk.
Her call came as two libraries in Blackpool's poorest wards are set to close and news of cuts to Blackburn and Darwen library services.
Blackburn-born Ms Cox said libraries provided "so much for us".
"So many people rely on them especially people who don't have much money," Ms Cox said.
"The people who work there are fonts of knowledge and experience, they hold classes there and events. You can get social interaction there, internet access and you can keep abreast of technology and research; it goes on and on.
"It is not just somewhere to borrow a book; they are cultural and very necessary."
Ms Cox, who also used to work in teaching, said she wanted the government to step in and rescue libraries such as Mereside and Grange Park in Blackpool.
"It says in the 1964 [Public Libraries and Museums] Act libraries must be spared from cuts and if threatened the central government must intervene.
"Now that's what we've got to fight for; we've got to get them intervening to keep them open."
The author added: "Four hundred are under threat and I think that is appalling."
A spokesman for the Department for Culture, Media and Sport said it was "too premature to consider intervening" in the proposals.
"It is up to individual authorities to make decisions about library services in their area."
The spokesman added: "We have a statutory duty to superintend the public library service but it is up to the local authority to deliver a comprehensive and efficient library service."
Councillor Damian Talbot, executive member for Leisure and Culture at Blackburn with Darwen Council, said: "These are the toughest decisions about cuts that the council has ever faced.
"Libraries are likely to face reduced opening hours and see a reduction in book purchases."
However, he added: "Everything is being carefully challenged and service reviews are ongoing until March 7."
Related Internet Links
The BBC is not responsible for the content of external sites.