Wayne Hemingway: 'Grit' answer to Blackburn cuts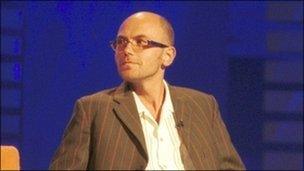 Designer Wayne Hemingway has said hard work and Northern grit is needed to tackle council cuts in his home town.
With £25m of cuts announced by Blackburn with Darwen Council, he said "human-beings are resilient and we are just going to have to get on with it".
Mr Hemingway criticised the extent of cuts hitting Blackburn, but said the "hard-working grit" of the town would help get people through.
He said it was a case of "digging deeper and work harder and smarter".
The Red or Dead founder said: "It doesn't seem right that a town like Blackburn should be in the top 20 worst hit... but we are where we are and it doesn't look like the government is going to back track.
"At least many of us have been brought up in hard-working northern households, understand thrift and know how to make a little go a long way.
"And in the creative industries that's what we do all the time. In all the projects we work on it is all about working collaboratively."
Funding to the arts, which Mr Hemingway takes a particular interest in, has been reduced in the cuts package.
All major events staged by the authority are under threat apart from Darwen Music Festival, which is to go ahead but with half the funding.
Blackburn's King George's Hall, where Mr Hemingway recently performed a DJ set, may be closed for the summer as part of the savings.
Councillor Damian Talbot, executive member for leisure and culture at Blackburn with Darwen Council, said: "The scale of the cuts means that every spending area is under stringent review, including the day-to-day operation of King George's Hall."
The fashion designer is urging people to step in and help organise events themselves there.
He said: "King George's Hall is fantastic... and if the good people of Blackburn want amazing things to happen, well they have got an amazing venue.
"When it comes to organising a dance or an arts festival it just takes a few of us to get together and [get] on with it."
Related Internet Links
The BBC is not responsible for the content of external sites.