Exhibition by man who engraved Lord's Prayer on pinhead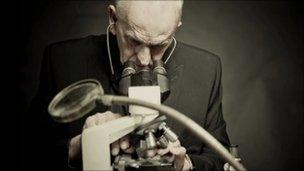 A master engraver who has elevated, or rather diminished, the art of engraving to microscopic proportions is to exhibit his work in Whalley.
Graham Short creates the world's smallest engravings, including the Lord's Prayer - all 1841 separate cuts of it - on the head of a gold pin.
His work is so precise, he cuts between heartbeats when his body is completely still.
"I want to do something that no-one else can do," he said.
"I just wanted to push the limits of miniature engravings as far as I could."
A self-confessed obsessive, Mr Short has been engraving for over 50 years, after starting an apprenticeship when he left school at 15.
The letters he cuts are invisible to the naked eye and can only be read with a microscope at 400 times magnification.
One of his latest engravings is the words Nothing is Impossible on the sharp edge of a standard razor blade, a feat which took seven months and many cuts to his fingers.
"That's about the limit," he said. "I can't go any smaller.
"If you think the thickness of a human hair is 100 microns, the height of the lettering [on the razor blade] is just under 20.
"The only thing that kept me going was the fact that I could actually engrave a letter on it, so I knew I could do it eventually, but many times I felt like giving up."
He has also engraved quotations on staples and the point of a paperclip.
Mr Short likes to be in top physical condition for his often gruelling work, and swims between 5,000 and 10,000 metres every day.
He works at night, when traffic vibrations are at a minimum, with his right arm tethered to the work-bench with a luggage strap to minimise unwanted movement.
He starts at 2200 and spends a couple of hours trying to lower his pulse rate with breathing exercises.
He then toils between midnight and 0530 for three or four nights a week.
"Some nights I can engrave four cuts, sometimes it's only one, sometimes I don't do any at all."
The Lord's Prayer took him 200 attempts and 40 years to finally create.
"I rarely start a job from beginning to end," he said. "They always go wrong because it's so small.
"If it was on a dustbin lid it would be easier."
Graham Short's exhibition is at the Art Decor Gallery in Whalley from 9 February.
Related Internet Links
The BBC is not responsible for the content of external sites.