David Hasselhoff supports Morecambe gardens campaign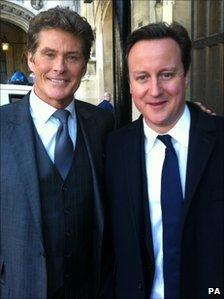 American actor David Hasselhoff has given his support to the campaign to reopen Morecambe's Winter Gardens.
The Britain's Got Talent judge met Morecambe MP David Morris, who he has known since the 1980s, on Tuesday to be given a tour of the House of Commons.
The Tory has now tabled a Commons motion, saying the actor's endorsement "demonstrates the international significance of the Winter Gardens".
He said Hasselhoff thought it was "an important part of the UK's heritage".
The Grade II listed building was built in 1870 and included a ballroom, seawater baths and bars.
It closed in 1977 and is now owned by a local campaign group which is looking for ways to guarantee its future.
The Friends of Winter Gardens group applied for funding from a government programme to regenerate seafront areas in 2009, but was overlooked.
Famous patrons include Ken Dodd, Wayne Hemingway and Eric Morecambe's son Gary.
Hasselhoff, who made his name as Michael Knight in the 1980s show Knight Rider and went on to star in Baywatch, visited Westminster while he was in the UK filming Britain's Got Talent.
He is friends with Mr Morris, a former songwriter who was once in a band with Rick Astley.
During his visit he had his photograph taken with Prime Minister David Cameron in a chance meeting outside the Commons.
An aide to Mr Morris said: "The Hoff was in town filming Britain's Got Talent, and David gave him a tour. He kindly agreed to support our campaign to restore Morecambe's Winter Gardens.
"While we were waiting for a taxi in New Palace Yard afterwards, the Prime Minister's car pulled up and he walked straight into us."
Related Internet Links
The BBC is not responsible for the content of external sites.